January 7, 2017
Exercise * Eat Right * Buy Art!
Welcome to 2017!  Woo Hoo! Hello, this is Mitch, I am the founder and manage First Saturday Arts Market. Thank you for checking this page out.
I'm going to give you a little tour of what you can expect to find at the market Saturday, from walking in, around and out!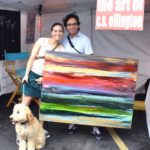 About the featured image: Patrons happy with a new purchase by C.S. Ellington. Stop by her booth Saturday. (Up against the orange wall, forth from the front!)
---
GETTING HERE & PARKING
This part is easy, you drive and park all the time!  We have directions and a parking map here on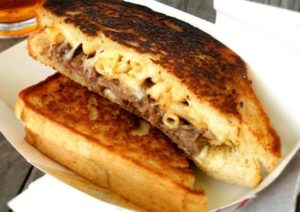 our Location page. We're hard to miss if you come from the west, first check for parking in the big lot to our east. See that big truck? That's Luv Me Tenders they have fabulous chicken tenders but this Saturday, you might want to try their legendary Shorty Mac! Why short ribs on a chicken menu? Well, it's a blast from the past – come ask me at market.
SHOUT OUT to our Title Sponsor: Memorial Hermann Greater Heights! You'll see their banner at the bottom of each page.
---
UP FRONT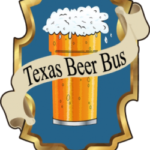 In front of the former Gen's Antiques (now open at 373 W. 19th) you'll find Texas Beer Bus, and they do exactly what their name implies, takes you on tours of breweries, wineries and distilleries.You can buy tickets right here and get your questions answered. They are always super cool and fun people!   From their website – 
Texas Beer Bus Tours are a fun and safe way to experience craft beer breweries, whiskey/vodka/rum distilleries, and wineries. We love craft beer and want to teach the world about it while exploring different breweries in a fun and safe way.
---
Featured Link: this month we recommend Houston on the Cheap !
---

GOT WINE?  We do!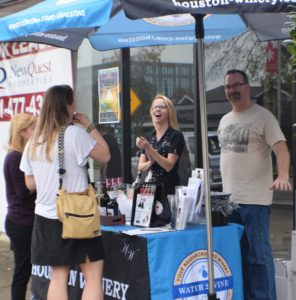 That's Edie with the big laugh and Jon to her right motioning me to put the camera away. (I really have no idea, but it looks that way!)
They own Water 2 Wine, a winery here in town, and though they have many fine selections they can only legally sample and sell wine made from Texas grown grapes. That's how they can be in our little dry section of the city. My fav is the port, that'll keep you warm while you shop! Purchase by the glass or take home a bottle or 6! Find out more on their website: www.water2wine.com
---
MUSIC!
Under the bright yellow tent at 2pm – The Tomes will perform! Their style is best described as a combo of acoustic, soul and rock. The members are all professional musicians and work for organizations like the Houston Symphony and Rice Orchestra. Now that is cool – and if you hadn't guessed by their name, their lyrics might be on the weighty side.  (I'm crack myself up LOL).  Head over to our music page here, to preview their music.
BullsEye Storage is our music sponsor. Got stuff? Let them keep it out of the way for ya!
TIP: bring a lawn chair.
---
BABY, WE HAVE ART!
Original, fresh, modern, hip, cool, amazing, spiritual, life changing and most importantly collectable!
EVERY artist is posted on The Artist Roster each month. When you get to the page you'll see a featured image and the artist's name (or their business name) under it. Click either and you'll go directly to that artist's page and where there are MORE photos, a description of the work, bio on some and web and contact info.   Below is a random sampling of this months show.
---
WALKING IN …
When you get to the back … (continue below video)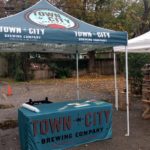 You will see this tent – THAT is an empty tent – but as you approach it Saturday, you will see a friendly person, talking about beer and handing out small samples. They are delicious.
MeetTown in City Brewing Company!
In fact, you should head over to the brewery after the market! Get directions via their Facebook page here.
NEXT Friday the 13th at this very brewery, Town in City Brewing Company will host First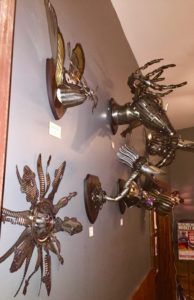 Saturday Arts Market artist Nancy Adams of The Tin Armadillo, for an artists reception. YOU ARE INVITED! RSVP at the event page.
If you haven't seen Nancy's art, she creates amazing decorative and functional art out of tin cans. For this art show at Town in City, she has created a fabulous collection of animal head trophies! They are hilarious! Here is a pic I snapped at a recent visit.  The brewery taproom is open Wed-Sunday.
Friday, January 13 at 7 PM – 9 PM
Town in City Brewing Company
1125 W Cavalcade St, Houston Heights, Texas 77009
---
THANK YOU REAL ALE BREWING CO.!
Each month Real Ale Brewing Co. gives me beer, to give to the artists. And I do! Below are some pics from a month or two back of artists enjoying some delicious Real Ale WHITE.
This month artists, we've got their Coffee Porter made with beans roasted by Katz Coffee! A local outfit. Cool! That should keep us warm!  Visit Real Ale on Facebook.
#fsam #1stsatartmarket #realale